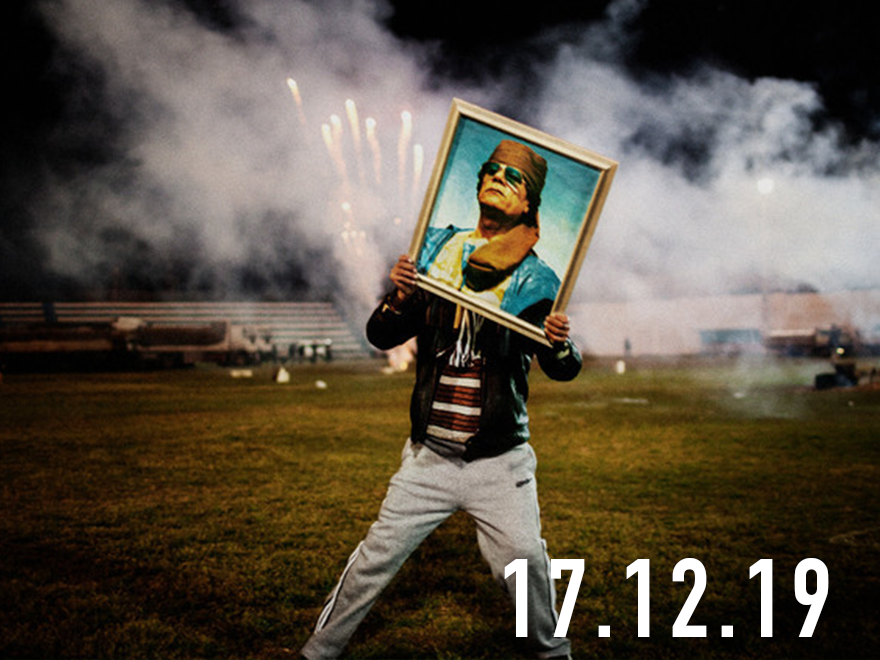 Inizia la Primavera Araba | 17 Dicembre 2010
Il 17 Dicembre del 2010 un giovane ambulante si da fuoco davanti alla sede del governatorato di Sidi Bouzid, dopo che le autorità tunisine gli avevano revocato la licenza. Questo episodio è la scintilla che innseca le proteste che in Tunisia porteranno alla fuga del dittatore Ben Ali e che successivamente contageranno altri paesi del mondo arabo dando vita al fenomeno della Primavera Araba.
Il Fotografo Moises Saman
Moises Saman, fotografo Magnum, ha seguito le rivolte della Primavera Araba dal Nord Africa al Medio Oriente, documentando l'ascesa ed il declino dell'ondata di protesta. Sono ben quattro anni di lavoro, che Saman ha deciso di raccogliere all'interno di un libro: Discordia.
Discordia di Moises Saman
Saman descrive così il suo lavoro in un'intervista rilasciata a Josh Gabert-Doyon di Huck nel 2016:
Le fotografie di Discordia non intendono spiegare allo spettatore le complessità del Medio Oriente. Questo è semplicemente un resoconto visivo ravvicinato e onesto del tempo che ho trascorso vivendo e lavorando come fotoreporter nella regione. Nel corso di questi anni le molte rivoluzioni si sono sovrapposte e nella mia mente sono diventate una storia sola. Volevo che il libro trascendesse un particolare evento o luogo, creando invece una narrazione visiva personale che parlava dell'esperienza più ampia, nello stesso modo frenetico in cui stavo lavorando.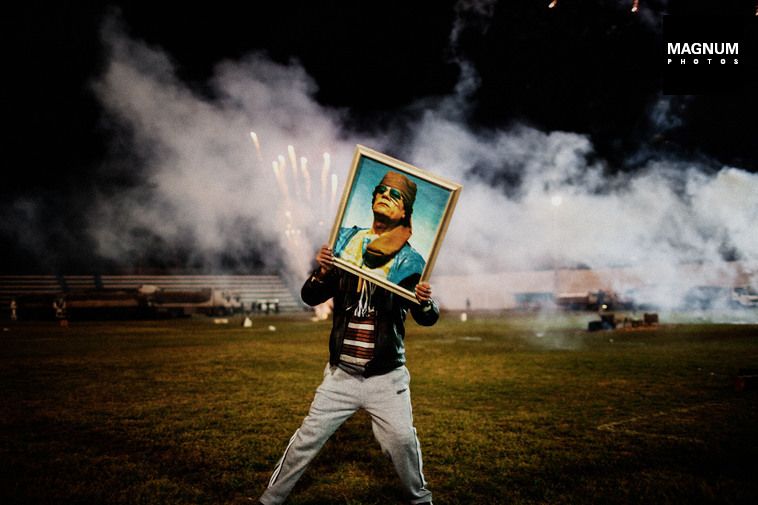 LIBYA. Tripoli. August 22, 2011. Rebel fighters from the Tripoli Brigade take cover during an attack in their makeshift headquarters in the former Academy of Revolutionary Women building in the Suq Talatha neighborhood of Tripoli. The building came under a heavy attack by pro-regime fighters.

EGYPT. Cairo. November 20, 2011. A protestor carrying a canister of tear gas prepares to throw it back at the police during clashes near Tahrir Square.

EGYPT. Cairo. November 20, 2011. A protestor throws rocks at Egyptian security forces during the second day of clashes near Tahrir Square.

EGYPT. Cairo. November 20, 2011. A protestor stands by a burning car during clashes near Tahrir Square.

EGYPT. Cairo. November 22, 2011. Egyptian riot police hold their line near the Interior Ministry during a truce with protestors that lasted less than 15 minutes. Protestors were able to approach the police until without a warning they, fired tear gas to disperse the crowd.

EGYPT. Bagour, Menofia Province, February 15, 2011. Young Egyptians seen reflected on a window inside the Moussa Eid Cafe in the town of Bagour along the Nile Delta. This is the hometown of the late Kamal Al-Shazli, a close allie of Hosni Mubarak and a former Member of Parliament for the past 46 years that all but ruled this part of the country before his death in 2010.

EGYPT. Cairo. February 3, 2012. Protestors look at the trajectory of a falling tear gas canister fired by Egyptian police during clashes near the Interior Ministry.

LIBYA. Misrata. March 28, 2011. A soldier loyal to Colonel Qaddafi stands on top of sandbags at a defensive position on an intersection in Tripoli Street at the south-western entrance to the city of Misrata, where opposition forces still control most of the city.

LIBYA. Zawiyah. 2011. Green and white pro-Qaddafi banners cover a government building re-taken from rebels by Qaddafi forces in the city of Zawiyah.

LIBYA. Tripoli. July 28, 2011. A supporter of Colonel Qaddafi displays a message written on his arm reading "only Muammar" during a pro-regime rally.

LIBYA. Al-Aziziyah. March 30, 2011. Men carry a photograph of Mondaher el-Mahdi el-Daas, 21, during a funeral procession for the Qaddafi volunteer fighter allegedly killed during air strikes near the city of Sirt. The funeral took place in the town of Al-Aziziyah, about 30KM from Tripoli.

LIBYA. Tripoli. September 15, 2011. A worker inside the cargo hull of a Syrian ship transporting wheat into Libya.

LIBYA. Tripoli. March 22, 2011. The port of Tripoli hours after it was targetted by a NATO airstrike.

EGYPT. Cairo. 2011. A young anti-Mubarak protestor sits inside a burned out car on the edge of Tahrir Square.

LIBYA. Zawiyah. 2011. Photographs of dead people and scenes of torture found in a room inside a burned down police station, damaged during recent fighting between rebel forces and fighters loyal to Colonel Qaddafi. The city center is now back under the control of Qaddafi's forces after a month of occupation by rebel forces.

LIBYA. Tripoli. 2011. Aftermath of an errant NATO bomb that struck a residential area in Tripoli.

TURKEY. March 2, 2012. Along the Turkish-Syrian border in Hatay Province. Under the cover of night a network of Syrian smugglers transport a family fleeing the violence inside Syria on a rowboat across the Orentes River, which marks a stretch of the border between northern Syria and southern Turkey. Since the start of the Syrian conflict in March of 2011 over 11,000 Syrian refugees have fled the country and are now living in refugee camps along the Turkish border.

TURKEY. Boynuyogun. March 4, 2012. Tents covered in plastic at a refugee camp near the Turkish border town of Boynuyogun housing over 1100 Syrian refugees that have fled the violence since the start of the conflict in March of 2011.

TURKEY. Boynuyogun, Hatay Province. March 4, 2012. A Syrian boy stands behind a plastic tent cover at a refugee camp near the Turkish border village of Boynuyogun. The camp houses over 1800 Syrians that have fled the violence since the start of the conflict in March of 2011.

EGYPT. Cairo. January 23, 2012. Supporters of the Muslim Brotherhood stand near the Parliament building awaiting the arrival of Brotherhood Parliament members during the first session of Parliament.